Creating a group in Telegram
It is assumed that you are already registered in the
Telegram
messenger.
In the Telegram menu, select «Create a group».
Enter your group name.
Add members to a group or bot.
Click «Create».
Adding a bot
Go from private messages with the bot, if you haven't already done so.
Start the bot or send the /start command
In the menu, click «Add a bot to your chat».
Select the group in which you want to place the game from the list.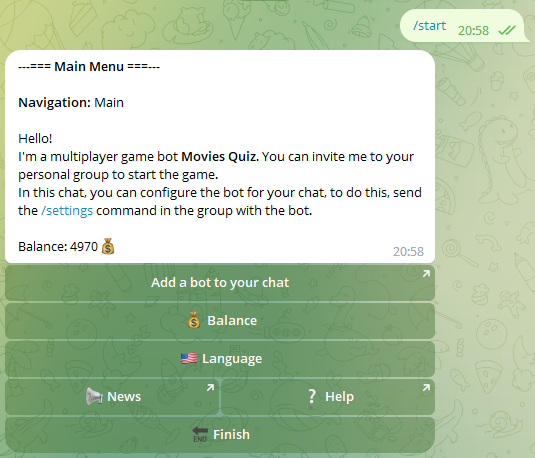 Administrator rights
For the bot to work correctly, you need administrator rights in your group.
You can disable all admin features, but the bot must have admin status.
Otherwise, the game will not work.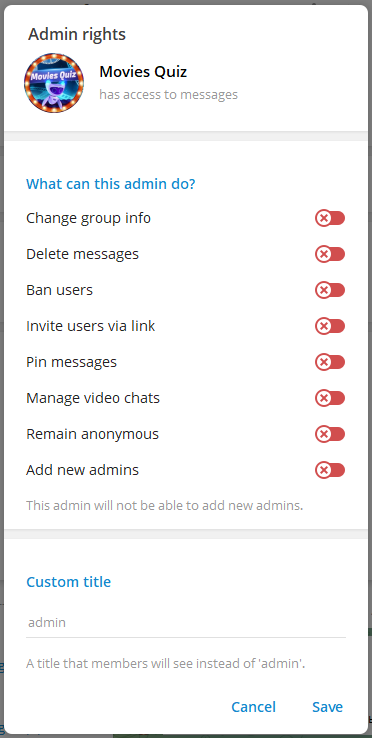 Game launch
To start the game, send the /start command to the group
Game stop
To stop the game, send the /stop command to the group
The team can be restricted by the group administrator.

Give an answer
Send /c [Movie] to the group to name the movie.
For example: /c interstellar
If your group uses a subscription bot, you can send the movie title without the /c command
Personal statistics
Only available in premium subscription.

Send the /my_stat command to the game group to get detailed personal statistics for your account.
You can also request personal statistics of another player by sending a mention of the user along with the team. For example: /stat @login

Top 10 players
Only available in premium subscription.

Send the /top command to the group to display a list of the top 10 players in the group.